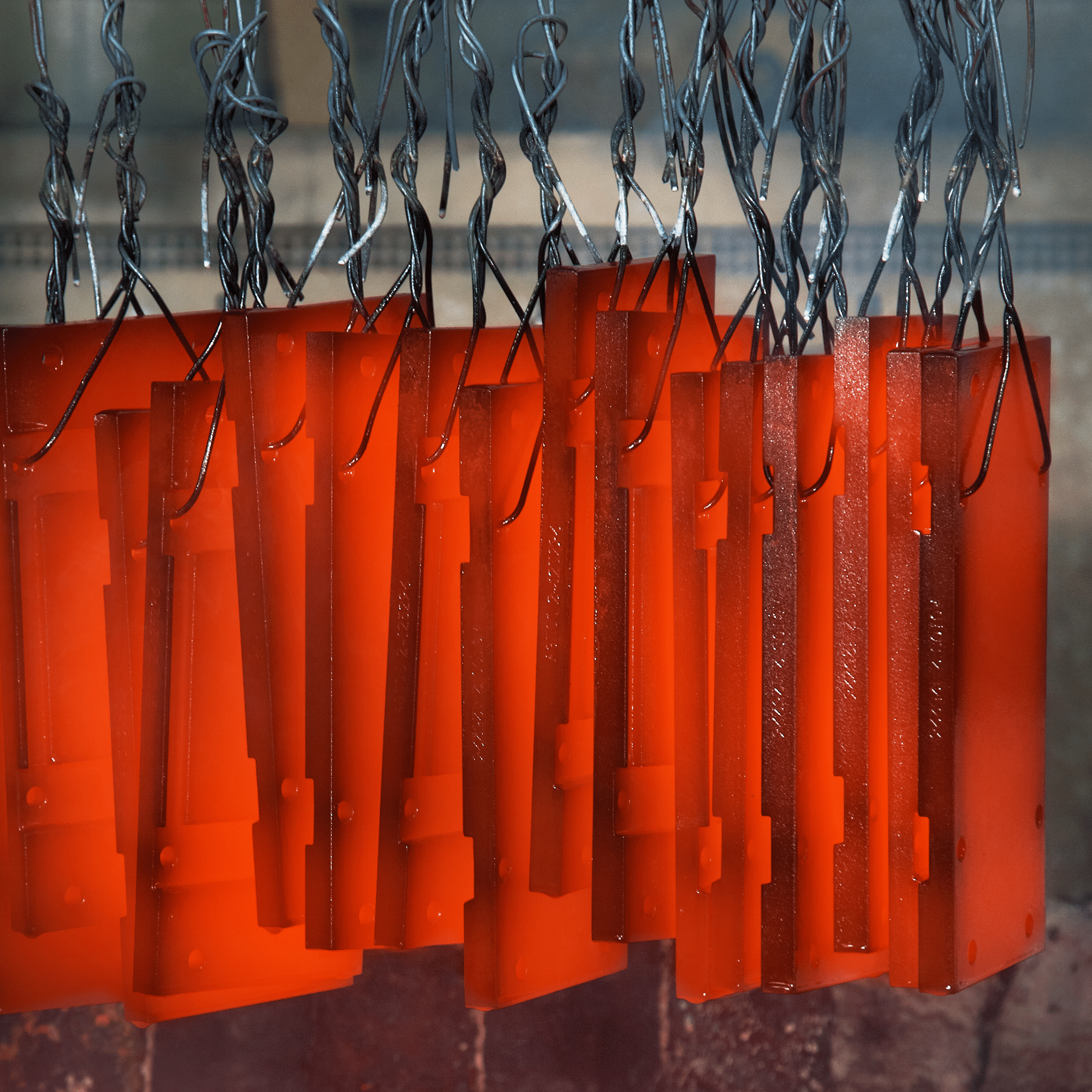 The process and its advantages
The objective of gentle salt bath hardening is to increase the hardness and the resistance of the material, with minimum warping. The process makes it possible to use a salt melt for both the heating and the cooling of the material. As well as cyanides, which are frequently used as melting salts, barium salts and special tempering salts are used for tempering.
The temperature of the salt melt (e.g. during salt bath nitriding) usually ranges from 150 °C to 1,300 °C. The typical temperatures for heating metal are between 800 °C and 1,200 °C. Temperatures between 140 °C and 250 °C (for staggered quenching, up to 450 °C) can be used to quench the material in the hot bath.
Their temperature stability and gentle heat transfer make salt melts attractive options for annealing and hardening processes. The slow cooling prevents the formation of vapour bubbles on the surface of the component. The process also causes a salt film to form on the workpiece, preventing undesired cooling effects like edge decarburising.
Summary: The advantages at a glance
Exceptionally uniform heat input
Reduced crack formation
Little warping
No edge decarburising
Optimised wear resistance
High reproducibility
Salt bath hardening is characterised as a particularly flexible and dependable process. Our experts at Härtha will gladly advise you on the details.
Info
Owing to the toxicity of the salts used, salt bath hardening is incorrectly regarded as outdated, even though is still widely used in industrial applications. Today, modern processes and less aggressive salts ensure improved recyclability and environmental compatibility.
Applications and materials
Salt bath hardening is a popular process for components having a complex shape and varying widely in cross-section and weight. This may include, for instance, shafts, gear wheels, or tools.
For such components partial hardening can be used to harden different areas to various levels of hardness. This can be accomplished through heat treatment in a salt melt. What is more, the slow quenching process can ensure uniform temperature distribution in the various areas of the component, reducing stresses to a minimum.
Suitable materials
Tool steels and spring steels/alloy steels are frequently treated using a salt bath hardening process. As a general rule, all grades of steel suitable for oil bath hardening can also be subjected to salt bath hardening. Equally decisive are such properties as the size and the structure of the workpieces, as well as the target hardness and target toughness.
The following is an excerpt of the steel grades suitable for a salt bath treatment:
| | |
| --- | --- |
| Material number | Short name |
| 1.1273 | 90Mn4 |
| 1.7225 | 42CrMo4 |
| 1.3505 | 100Cr6 |
| 1.0762 | 44SMn28 |
| 1.7228 | 50CrMo4 |
| 1.6511 | 34CrNiMo6 |
| 1.6582 | 43CrNiMo6 |
| 1.7006 | 46Cr2 |
| 1.7035 | 41Cr4 |
| 1.8159 | 50CrV4 |
| 1.6545 | 30NiCrMo2 |
| 1.6546 | 40NiCrMo2 |
Areas of application
Toolmaking and mechanical engineering
Aerospace
Automotive industry
Dimensions
600 mm x 500 mm
Max. weight
500 kg
Maximum operating temperature:
1,200 °C
Would you like to commission salt bath hardening from us?
We need the following information from you:
Material designation
Target hardness and tolerance range
Maximum permissible warping
Additional requested pre- and post-treatments
Test area, if stipulated