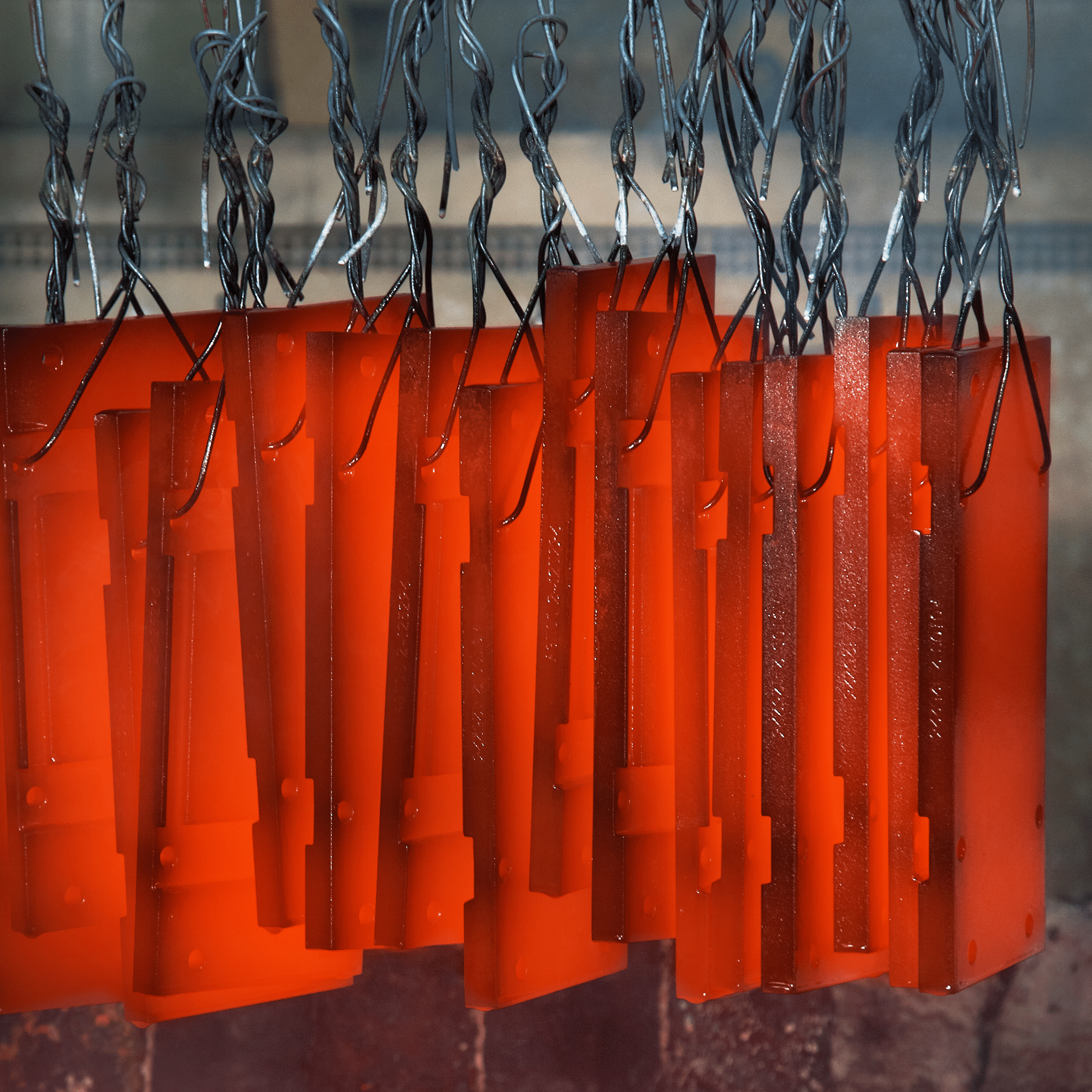 The process and its advantages
Salt bath nitriding starts off with a heat treatment of the workpieces at approx. 350°C. This treatment is followed up with the creation of a protective diffusion zone in a 580 °C nitriding bath consisting of a salt melt. During this treatment, both nitrogen and carbon penetrate the surface of the component.

To attain the desired properties, the cyanide/cyanate content of the salt melt is regulated. The duration of the treatment may vary between a few minutes to several hours, depending on the type of steel. Once the treatment time has elapsed, water, oil, or a polymer are used to quench the workpieces.

Post-treatment in an oxidation bath: Tenifer QPQ process


During the Tenifer QPQ process, after the nitriding bath the workpieces are immersed in an oxidation bath. The cyanide clinging to the workpieces is neutralised at 380°C. This process takes between 10 and 15 minutes. The workpieces are then quenched with water. Tenifering produces an extremely high level of corrosion resistance, frequently surpassing even galvanic edge layers. In addition, the workpieces gain a refined blackened surface.

The advantages of salt bath nitriding/salt bath nitrocarburising at a glance
Improved resistance to wear and corrosion
Increased fatigue resistance
Pleasing aesthetics of the components thanks to blackening oxidation
Minimum warping makes reworking the components unnecessary
Reliably reproducible results
Short treatment times
The nitrided layer is heat-resistant up to 600°C
Partial hardening possible
High-alloy and high-chromium steels can also be treated
In general, all grades of steel are suitable for salt bath nitriding. However, certain alloy steels are especially suitable for this process. The process is a particular favourite in mechanical engineering and the automotive industry.

Summary: Typical real-world applications
Mechanical and apparatus engineering
Vehicle construction
Precision engineering
Automotive industry
Summary: Which materials are suitable?
Steel materials
Cast materials
Sintered materials
Non-alloy materials
Low-alloy materials
Medium-alloy materials
Check list: Ordering salt bath nitriding
If you would like us to treat your workpieces or materials with a salt bath nitriding process, we will gladly advise you on the best procedure. You can use the check list below to make your preparations for the order.
Which material is to be treated, and what is its condition?
What is the target hardness (including tolerance range in HV)?
What is the desired nitriding hardness depth (including tolerance range in mm)?
If applicable, which areas are to be salt bath nitrided, and where can the hardness be measured?
If applicable, how thick should the compound layer be (including tolerance range in μm)?
Note:
We use a sample that we take ourselves to measure the thickness of the compound layer and/or the nitriding hardness depth. For measurements that are specifically related to your order, we need you to provide us with a reference component that is intended for the hardening treatment.
Surface hardness and nitriding hardness depth of various materials
We offer state-of-the-art salt bath nitriding processes at the following locations: location overview