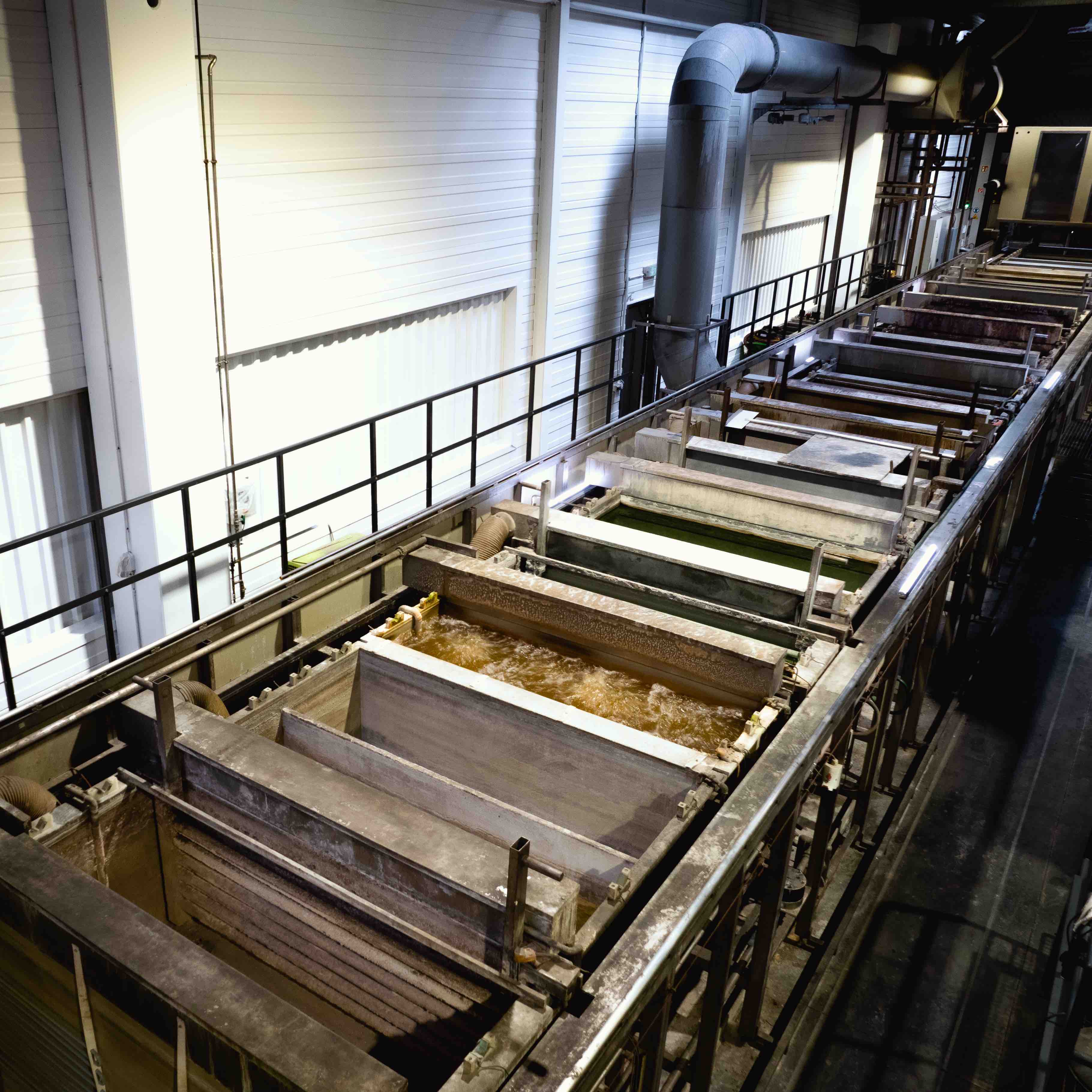 The DIN 50983 standard defines burnishing as a manufacturing process that converts the metal surface, i.e. no coating. For this purpose, the component is immersed in an alkaline or acidic solution, and then heated. 
 
A chemical reaction between the burnishing agent and the material leads to the formation of a so-called patina – a black layer of mixed oxide on the surface of the component. This layer is only about 1 μm thick and has no impact on dimensional stability. 
 
The burnishing of metals requires both a pre-treatment and a post-treatment. The following process has become established:

Pre-treatment

In order to successfully burnish steel, the workpiece must first be freed from residues and impurities, and then cleaned thoroughly. The following steps are necessary to accomplish this: Degreasing, rinsing, pickling, and rinsing again


Burnishing

Burnishing salt is stirred into cold water to prepare the burnishing bath. When combined with a heat supply, exothermic processes cause the temperature to rise to the boiling point.

Next is the actual process of burnishing. The component is now immersed in the burnishing salt solution with the help of barrels, racks, or sieves until the surface turns deep black. Throughout the entire process, the burnishing bath is kept at the boiling temperature. This process may take between five and thirty minutes. Its duration depends on the geometry of the component, its type of material, and its intended use.


Post-treatment
In order to remove any salt residue left on the metal after burnishing, the workpiece is rinsed again, usually with hot water and ultrasound. After that, corrosion protection is applied to the surface.
 
INFO: Durability and protective effectiveness of burnishing
Preservative oils or greases are used to protect the burnished layer against corrosion. These agents allow it to withstand mechanical stresses such as bending and pressing, and make it resistant to heat up to 300 °C. Even stresses from the alkaline milieu, i.e. conventional lubricants, varnishes, and solvents, will not affect the treated layer. Burnished workpieces are therefore well suited for use indoors. Acids, on the other hand, dissolve the burnished layer. For this reason, treated components intended for outdoors require additional protection.
The advantages at a glance
Burnishing as a surface treatment offers a number of advantages for a workpiece:
The characteristic blackening produced during burnishing makes the steel look antique, and is considered a visual enhancement.
Burnishing protects against corrosion, especially from oils and greases
The burnished layer is highly resistant to abrasion and bending and offers temperature resistance up to 300 °C
Hardly any impairment of dimensional stability, and thus no warping
No impairment of conductivity
Burnishing is used in mechanical and plant engineering to increase the service life of components. The process is therefore of major importance, especially for roller bearings, and also for springs, clamping jaws, screws, fittings and controls as well as for components used in handguns. In addition, parts are burnished for aesthetic reasons to blacken them, and thus to give them an antique look.
NFO: Blackening
Besides burnishing, there are other methods that fall under the category of blackening. Blackening is also used for the corrosion protection of forged products and iron cookware. For this purpose, linseed oil is burned off on the iron surface. The workpiece is heated to a temperature of 400 °C to 700 °C in glowing coal and then quenched with linseed oil, or else coated with oil first and then heated. The oil is dissipated in the form of smoke. The process often requires several passes to produce the desired outcome. The process is also referred to as black annealing or dark marking.
Oxidisable metals such as steel, copper, brass, and cast iron are suitable for burnishing. Non-ferrous metals and rust-resistant steel are not suitable for burnishing because they cannot form a layer of mixed oxide.
An overview of some suitable materials can be found at the bottom of this page.
Burnishing compared with other processes
While chromating and phosphating involve the incorporation of their respective eponymous elements into the surface layer, only oxygen is incorporated during burnishing. This leads to the formation of the oxide layer, composed of mill scale or of iron (II) or iron (III) oxide.
DIN 8580 does not classify burnishing as a coating as per main group 5, but as a change in material properties as per main group 6.3. This means that particles are introduced into the surface instead of being applied to the surface. For this reason, the dimensions of the component remain almost unchanged.
Special expertise at Härtha
The individual burnishing parameters have a decisive influence on the lasting quality of this surface treatment. A great amount of experience is necessary to strike the important balance between temperature, time, chemicals and concentration that will perfectly suit your workpieces. State-of-the-art systems ensure that the sensitive parameters are strictly complied with. We at Härtha are therefore able to guarantee your desired product characteristics, even with a very narrow tolerance range.
Maximum workpiece size:
2,700 x 400 x 600 mm
Our interactive location overview tells you which of our locations in Germany and Europe offer burnishing.
Facts worth knowing about burnishing
A higher colour depth can be achieved by multi-stage burnishing (DIN 50 938)
Only iron oxidises during burnishing – which is why the iron content determines the depth of the blackening. As a consequence, a higher concentration of other alloy components leads to lighter and possibly reddish colourations
When applied to stainless steels, burnishing is referred to as blackening or stainless steel blackening
Due to the chemical nature of the process, internal areas and holes can be burnished without a problem
During what is known as rapid burnishing, the burnishing solution is applied manually to the workpiece.
Customer specifications for burnishing
We are delighted that you wish to commission burnishing from us. Please start by providing us with the material designation and information about any thermal pre-treatments.